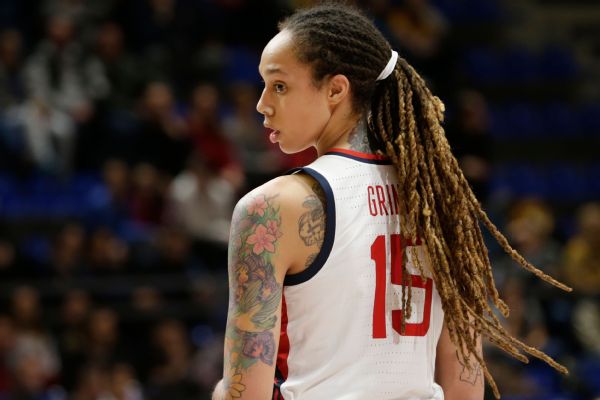 Brittney Griner returned to the United States early Friday after being freed in a high-profile prisoner exchange following nearly 10 months in detention in Russia.
Griner was seen getting off a plane that landed Friday at Joint Base San Antonio-Lackland in Texas.
U.S. officials said Thursday that she would be offered specialized medical services and counseling upon her return but declined to go into specifics, citing privacy concerns.
Griner had been detained in Russia for nearly 10 months. She was exchanged for notorious arms dealer Viktor Bout on Thursday.
The exchange, made at a time of heightened tensions over the invasion of Ukraine, achieved a top goal for President Joe Biden but carried a heavy price and left behind Paul Whelan, an American jailed for nearly four years in Russia.
In an address from the White House on Thursday, Biden, who had spoken to Griner on the phone, said these "past few months have been hell for Brittney" but that she was in good spirits.
"This is a day we've worked toward for a long time," Biden said. "We never stopped pushing for her release. It took painstaking and intense negotiations, and I want to thank all the hardworking public servants across my administration who worked tirelessly to secure her release."
Cherelle Griner also spoke at the White House and thanked a number of people who helped secure her wife's release.
"Today, my family is whole, but as you all are aware, there are so many other families who are not whole," Cherelle Griner said. "BG and I will remain committed to the work of getting every American home, including Paul, whose family is in our hearts today as we celebrate BG being home."
Griner was arrested at Moscow's Sheremetyevo Airport in February when customs officials said they found vape canisters with cannabis oil in her luggage. She pleaded guilty in July though still faced trial because admitting guilt in Russia's judicial system does not automatically end a case. She was sentenced to nine years and had been transferred to a penal colony in November.
She acknowledged in court that she possessed the canisters but said she had no criminal intent and that their presence in her luggage was due to hasty packing.
The U.S. State Department had declared Griner to be "wrongfully detained" — a charge that Russia sharply rejected.
In releasing Bout, the U.S. freed a former Soviet Army lieutenant colonel whom the Justice Department once described as one of the world's most prolific arms dealers. He was arrested in Thailand in 2008 and extradited to the U.S. in 2010.
Bout was serving a 25-year sentence on charges that he conspired to sell tens of millions of dollars in weapons that U.S officials said were to be used against Americans.
The Associated Press contributed to this report.