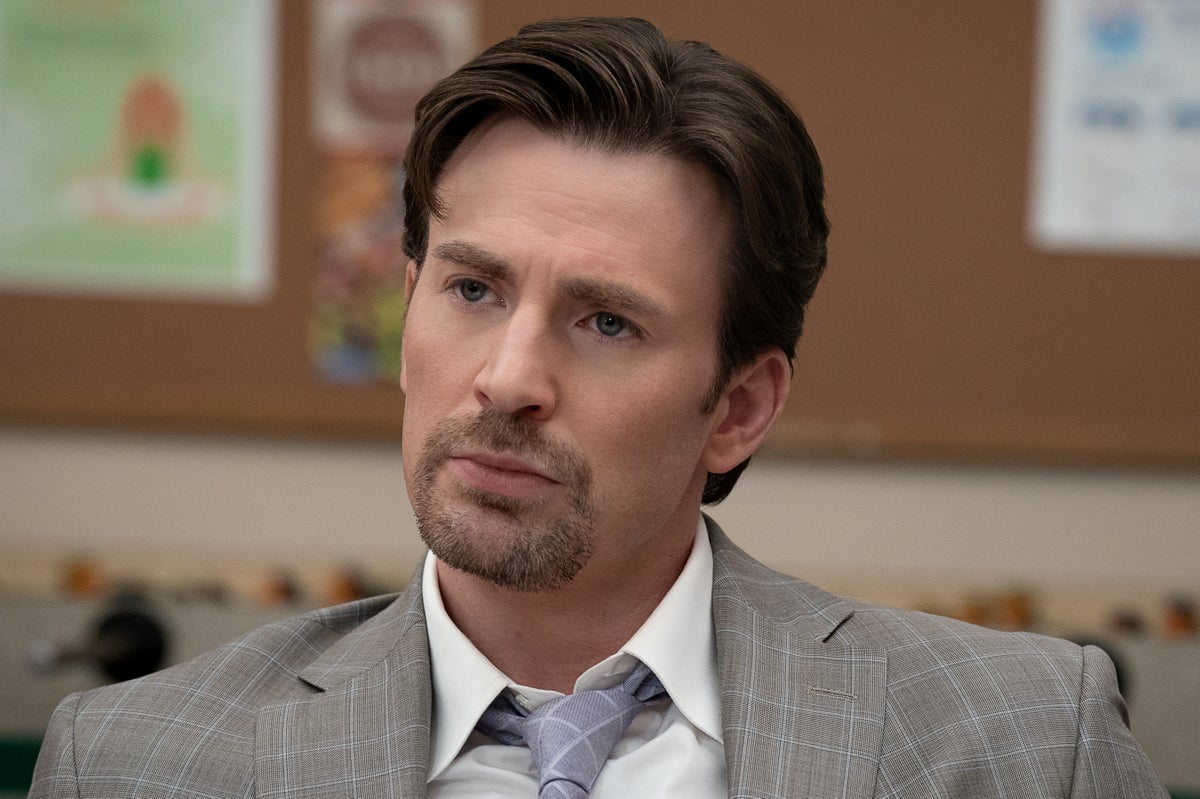 What's happening to Chris Evans? You can see him there, face etched into towering rock, part of the dubious new Mount Rushmore we call the "Hollywood Chrises". Alongside Chrises Pratt, Pine and Hemsworth, Evans is part of a cadre of anointed white men to have dominated multiplex screens over the past decade and a half, largely thanks to his role as Captain America in Marvel's box-office-catnip superhero franchise. He crawled out of the Marvel machine in 2019 after Avengers: Endgame, and has thrown himself into a variety of projects – most recently, Netflix's new pharma drama Pain Hustlers, alongside Emily Blunt. Shrugging off Captain America, however, was the easy part. Now comes everything else.
In Pain Hustlers, Evans plays a sleazy pharmaceutical executive peddling an addictive new pain medication. The film has shot to No1 on Netflix, but you'd have to do a bit of searching to find a reviewer who'd prescribe watching it – a damning 24 per cent score on Rotten Tomatoes renders the diagnosis clear. For his part, Evans is just about fine, slipping gamely into the sort of slick-talking dirtbag mode he's previously deployed – with minor tweaks – in films such as Fantastic Four and Knives Out. But it's nonetheless a forgettable effort from the actor, and follows a run of similarly insipid projects: action-romance Ghosted with Ana de Armas; colourless thriller The Grey Man opposite Ryan Gosling; instantly memory-holed Pixar spin-off Lightyear. Unmoored from the infrastructure of Marvel Studios, Evans is spinning in the wind.
The problem he faces, I would argue, is figuring out exactly what sort of actor he wants to be. Many of his early performances were knowingly smarm-intensive – while also being funny. He was a standout in the parodic 2001 comedy Not Another Teen Movie, playing a high school jock, and as the hot-headed Johnny "Human Torch" Storm in the now quaintly shoddy Fantastic Four. As the years progressed, he showed signs of genuine range. As the lead in Bong Joon Ho's satirical thriller Snowpiercer. A brittle spacefarer in Danny Boyle's Sunshine. A vain A-lister in Edgar Wright's Scott Pilgrim vs the World. The role that would make him truly famous was in complete opposition to his early type: as Captain America's Steve Rogers, he had to sand down all the swagger, become a kind of sexless holier-than-thou Action Man. And, as the movie's many millions of fans would attest, he nailed it.
But, as is the case with many who wade neck-deep into the oil slick of franchise filmmaking, Evans has found that it's not so easy to get back to shore. After his last Marvel foray, he fronted the critically panned spy thriller The Red Sea Diving Resort, had cameos in Free Guy and Don't Look Up, and recorded voiceover for a 47-minute Imax film called Superpower Dogs. (Your guess is as good as mine.) Knives Out is the sole outlier among his post-Endgame filmography – in Rian Johnson's 2019 whodunnit, Evans' turn as the insubordinate, fleece-wearing Ransom Drysdale was funny and well-pitched. Maybe in this film, Evans can find the key to reviving his reputation as a serious, unspandexed actor of means. It seems to involve working with a strong filmmaker, shifting himself away from leaden leading man roles, and re-embracing his sense of humour. All of which is easier said than done.
In a recent video interview with GQ, Evans recalled the pitch he had received before being cast in Scott Pilgrim. Wright apparently told him: "[Your character Lucas Lee] is this movie star, but he really doesn't have much range, and he thinks he's great but he's actually terrible. I think you'd be perfect." That Evans shared the anecdote suggests a self-deprecating streak; for an actor who has spent his career all but ignored by the major awards bodies, barbs about craft and range must surely sting. But Evans is by no means "terrible" – he just needs to start picking roles that prove it.
'Pain Hustlers' is streaming now on Netflix