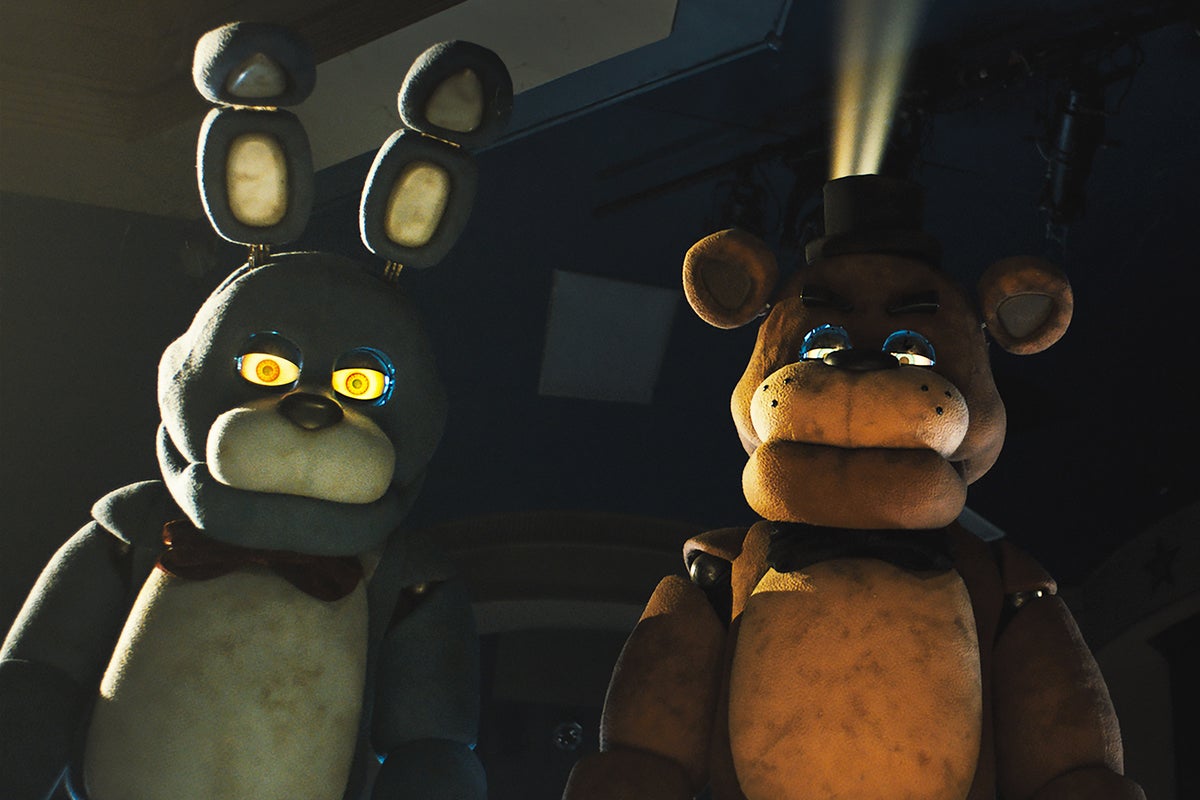 Five Nights at Freddy's is the cultural equivalent of an underground cave system – if it isn't your stomping ground, you have no clue how deep it really goes. And you'd be a fool to try and find out. An indie horror game single-handedly developed by designer Scott Cawthon in 2014, Five Nights first clawed its way into the public consciousness thanks to the several hundred hours of game footage uploaded to the internet by streamers screeching at its neat and nasty jump scares. The franchise stands now at nine core games, plus a flurry of spin-offs, novels, and comics – not to mention the vast network of fan-created art, cosplay, and music.
You can't exactly blame a production company like Blumhouse (also behind M3GAN and the recent Halloween trilogy) for wanting a piece of the feverishly viral, wildly profitable pie. Yet, instead of catering to the in-built audience ready and waiting, Five Nights wastes time trying to win over people who couldn't care less. As a result, what should've been an intricate, twisted, and absurd treat is demoted to generic horror movie sludge, in no way discernible from any of the other spooky titles lining the October release schedule.
In Cawthon's game, you play as a night security officer, Mike Schmidt, hired to look after a decrepit branch of the family-friendly Freddy Fazbear's Pizza chain. Americans familiar with institutions like Chuck E Cheese and Showbiz Pizza Place know the deal: plastic cheese, unsanitary ball pits, and a musical band made up of uncanny, animatronic creatures. Throw a little murderous intent into the mix and you've got Five Nights at Freddy's. As Mike, it is your job to keep your eyes glued to the security camera footage to ensure that once these creepy robots come to life – as they inevitably do – they don't kill you.
The film, directed by Emma Tammi, casts The Hunger Games's Josh Hutcherson as Mike. Here, his new job is part of a last-ditch effort to keep from losing custody of his younger sister Abby (Piper Rubio) to his cartoonishly self-serving aunt (Mary Stuart Masterson). Tammi does, on occasion, tap into the game's distinctive malevolent absurdity. Freddy and his animatronic crew (a guitar-strumming rabbit; a fox with a hook hand; a baby chick in a bib) have been faithfully rendered by Jim Henson's Creature Shop. There's an eerie disjointedness, too, to the film's mix of decayed malls, scratchy VHS tapes, and service workers with mechanical grins. Masterson, an undervalued actor, carves pantomime glee out of her two-dimensional role – as does Matthew Lillard, in what essentially constitutes an extended cameo.
What's missing, however, is the real key to the Five Nights phenomenon: Cawthon's breadcrumb trail of lore. Spread out across the franchise, it's this that successfully turned a relatively simple game into a modern brand of urban legend. Hints at a morbid, disturbing backstory for Freddy and co were tucked inside pixelated mini-games and boosted by a vast web of online fan theories.
The film's script – despite having been co-written by Cawthon, alongside Tammi and Seth Cuddeback – discards this mystery in favour of the same tortuously drawn out, dreary portrait of "trauma" we've seen a hundred times before. It makes for a lot less robot murder than you'd hope for, and even the carnage itself is severely hampered by the film's efforts to land a bloodless PG-13 rating in the US. And for what? Most of the game's fanbase are of drinking age by now – and it's hard to believe anyone new will be converted by this broad adaptation.
Dir: Emma Tammi. Starring: Josh Hutcherson, Elizabeth Lail, Piper Rubio, Mary Stuart Masterson, Matthew Lillard. Cert 15, 109 minutes