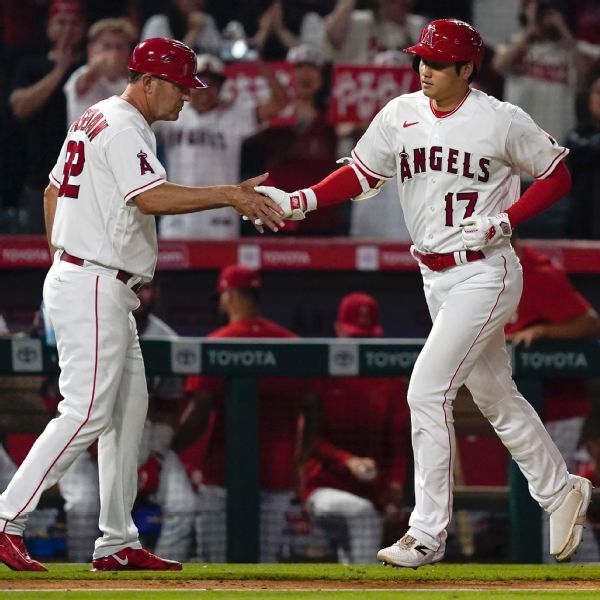 ANAHEIM, Calif. — Shohei Ohtani hit his major league-leading 33rd homer to key a tying rally in the ninth inning, and rookie Trey Cabbage scored on rookie Grae Kessinger's throwing error in the 10th to give the Los Angeles Angels a wild 13-12 victory over the Houston Astros on Saturday night.
The Astros' rookie shortstop threw wide of first base while attempting to turn an easy inning-ending double play on Taylor Ward's grounder. Cabbage scored from third in only his second major league game to set off a festive celebration for the Angels, who rallied from a six-run deficit in the seventh and a three-run deficit in the ninth.
The Angels can only hope their next win is a little bit less grueling than this victory, which snapped their six-game losing streak.
"To say that win was needed is an understatement," Angels manager Phil Nevin said.
And it came after the Angels received a dose of good news on Ohtani from a pitching perspective. He is tentatively expected to make his next mound start Friday against the Pittsburgh Pirates, despite the minor finger injuries that have hampered his past three starts, Nevin said.
Ohtani is bothered by a finger blister and by a cracked fingernail, and had to leave Friday's start in the sixth inning.
"For the most part, things just didn't go the way I wanted to," Ohtani said through his interpreter Friday. "It's kind of been like that when I was on the mound. … I haven't really thought about when my next outing is. I'm just going to come to the field, see where my finger is at, and go from there."
Houston has their own issues on the mound. Starter Framber Valdez left Saturday's game with an apparent left calf injury in the seventh, but manager Dusty Baker said the team is hopeful both injuries were only cramps.
"They started hitting us all over the ballpark," Baker said. "You just hate to end the game like that. Just a bad, bad loss for us."
The AL West rivals combined for 18 runs in the final four innings, and Houston's bullpen imploded, allowing eight hits and eight runs — six earned.
The Angels tied it 9-9 in the seventh on Mike Moustakas' three-run homer. Chas McCormick put Houston back ahead with a two-run homer in the eighth, and Yainer Diaz added an RBI single in the ninth to put the Astros up 12-9.
Star closer Ryan Pressly hadn't allowed a hit since June 15 before he blew that three-run lead, starting with Ohtani's 404-foot leadoff shot to center. Hunter Renfroe's RBI single tied the score in the ninth, but Pressly eventually stranded two Angels in scoring position.
"It gives us a lot of momentum moving forward," Moustakas said. "A lot happened throughout that game, and we found a way to come back and win. That shows we can do it. Fantastic team win."
All-Star closer Carlos Estevez (3-1) pitched a scoreless 10th inning for Los Angeles, and Phil Maton (2-3) lost without allowing a hit.
Jose Abreu hit a three-run homer during a five-run seventh inning for the Astros, but the Angels responded with an even bigger rally that included rookie Zach Neto's two-run dinger.
Neto connected off Valdez, who abruptly left with an athletic trainer two pitches later, midway through Ohtani's at-bat. Valdez matched his career high with 13 strikeouts, but yielded seven hits and five runs on 103 pitches.
Kyle Tucker drove in three runs for the Astros.
Reid Detmers yielded four runs on five hits and three walks over six innings for the Angels.
The Associated Press contributed to this report.