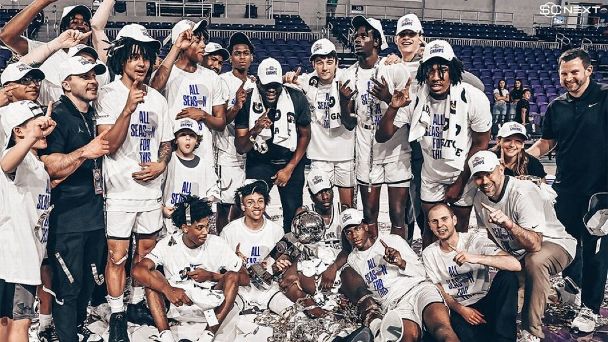 There's a shakeup atop the SCNext Top 25 boys' basketball rankings after last week's results of the 2023 Geico Nationals in Fort Myers, Florida.
Link Academy, out of Branson, Missouri, takes over the top spot after winning the prestigious event. The Lions beat AZ Compass Prep (Chandler, Arizona) 73-55 in the championship game.
Link Academy, now 27-1, was ranked No. 5 in last week's SCNext Top 25. Previous No. 1 Montverde Academy (Florida) falls to No. 2 after losing to Sunrise Christian (Bel Aire, Kansas) in the Geico quarterfinals. Also dropping in the rankings was Long Island Lutheran (Brookville, New York), which fell to AZ Compass Prep in the quarterfinals at Geico. LUHI went from No. 2 to No. 5. AZ Compass Prep made the climb from No. 16 to No. 4. Duncanville (Texas), which did not participate in the Geico Nationals, holds down No. 3.
We rank the best teams in the country for the 2022-23 season. Below is the ESPN High School Boys' Basketball Top 25 for the week of April 4, 2023.
1. Link Academy (Branson, Mo.) 27-1
2. Montverde Academy (Fla.) 23-3
3. Duncanville (Texas) 29-1
4. AZ Compass Prep (Chandler, Ariz.) 24-6
5. Long Island Lutheran (Brookville, N.Y.) 22-3
6. John Marshall (Richmond, Va.) 28-0
7. St. Paul VI (Chantilly, Va.) 31-4
8. Sunrise Christian (Bel Aire, Kan.) 22-8
9. IMG (Bradenton, Fla.) 18-8
10. Prolific Prep (Napa, Calif.) 35-2
11. Harvard-Westlake (Studio City, Calif.) 33-2
12. Centennial (Corona, Calif.) 30-4
13. Imhotep Charter (Philadelphia) 30-3
14. Columbus (Miami) 26-4
15. Camden (N.J.) 23-2
16. St. John's College HS (Washington, D.C.) 32-4
17. Ben Davis (Indianapolis) 33-0
18. Perry (Gilbert, Ariz.) 30-1
19. Lake Highlands (Dallas, Texas) 34-3
20. Mount St. Joseph's (Baltimore, Md.) 38-4
21. Wheeler (Marietta, Ga.) 26-6
22. Notre Dame (Sherman Oaks, Calif.) 27-10
23. West Ranch (Valencia, Calif.) 29-3
24. Combine Academy (Lincolnton, N.C.) 35-5
25. Sidwell Friends (Washington, D.C.) 27-4