The 2023 Women's World Cup is in full swing, and these daily files give you the latest reporting from around the tournament as well as betting lines, what-to-watch-for information and best reads. Check in with ESPN throughout the tournament as we bring you the latest from Australia and New Zealand.
---
The lead: Impressive France book quarterfinal date with Matildas
ADELAIDE, Australia — After a poor performance in their opening 0-0 draw against Jamaica, France coach Hervé Renard warned everyone: "Kadidiatou Diani will soon be at her best again."
The PSG striker has proved him right since: an assist against Brazil, three goals against Panama, one goal and two assists against Morocco. Diani is on fire, and like her, France are going from strength to strength.
Les Bleues destroyed Morocco 4-0, with three goals between the 15th and 23rd minutes in the most impressive spell of football we have seen during the knockout round so far. The movement, triangles, patterns of play and combinations were outstanding. Diani's goal came from a wonderful move between Élisa De Almeida, Sakina Karchaoui and Selma Bacha. Kenza Dali's came from a superb one-two with Diani. Eugénie Le Sommer added a third after a mistake at the back, and the game was pretty much over as soon as it started.
– Women's World Cup: Landing page | Bracket | Schedule | News
Tactically, Renard is doing an impressive job with this team in possession: with wide and high full-backs, Sandie Toletti's position as a third centre-back, Le Sommer dropping deeper, Bacha's freedom, Grace Geyoro's control and Diane's runs. The final result of this match could have been worse for Morocco.
France now head to Brisbane to face co-hosts Australia in the quarterfinals. Only once before have they qualified for the last four of a World Cup — back in 2011. They have never been so close to doing it again. Beware, Australia, beware. — Julien Laurens
---
News of the day
England forward Lauren James faces a nervous wait to discover the length of her ban after being sent off during the team's round-of-16 penalty shootout win against Nigeria. The Chelsea star will definitely miss the Lionesses' quarterfinal game against Colombia on Saturday but could be suspended longer should England advance further. James, 21, was shown a red card in the 87th minute after she deliberately stepped on Michelle Alozie, who was on the ground at the time. James was first shown a yellow card, but then issued a red after the referee consulted the VAR.

Jamaica and Colombia have met before … in a nightclub. Reggae Girlz coach Lorne Donaldson revealed before their round-of-16 clash that the two teams, who share a love for music and dancing, made some new friends early in the tournament. "I was in Sydney, our first game … we went to a club that night. At the bottom was Colombia partying. And at the top, it was Jamaica," he said. "So we went down there, some Jamaicans trying to party with the Colombians, and it was great. I think it makes it better that you have countries like this who enjoy life first. There are more important things in life than football."

Australia coach Tony Gustavsson said he was initially hesitant about subbing in Matildas star Sam Kerr during the late portion of the team's 2-0 round-of-16 win over Denmark. Kerr, arguably the world's top player, had missed all of the group stage with a lingering calf injury but finally made her tourney debut in the 80th minute of Monday's game. "I could sit here and say [putting Kerr on] was easy, but it wasn't," Gustavsson told reporters postgame.
---
Today in USWNT camp
Krieger praises 'incredible' Megan Rapinoe as her USWNT career ends
Ali Krieger discusses the impact of Megan Rapinoe on women's soccer after the USWNT's elimination from the World Cup marked the end of her playing career.
What factors contributed to the USWNT's early World Cup elimination?
Injuries? The U.S. wasn't the only country to encounter injuries — England was without four key players, and France had several out — so the U.S. can't cite injuries alone for its exit. But the USWNT would have had a stronger team if its players had been healthier.

Wrong lineup? While the defense performed well despite Becky Sauerbrunn's absence, the ripple effect meant that Julie Ertz wasn't available in midfield. From there, Vlatko Andonovski had limited options, though some of his decisions were perplexing, even without the injury impact.

No chemistry? On the field, they looked tight and as though they were trying to force something to happen. Despite an expected goals (xG) through four games of around nine goals, they managed four. They created chances, but the individual chances were mostly not good enough, and when they were good enough, the players couldn't finish.
There are plenty of reasons the USWNT will now be watching the rest of the tournament from home, and ESPN's Jeff Carlisle and Caitlin Murray break them all down here.
---
Sights and sounds
A learning curve for Morocco
ADELAIDE, Australia — It was always going to be a big challenge for Morocco to extend Africa's participation at this World Cup into the quarterfinals, and reality hit home hard and early in their 4-0 defeat against France. With 71 places between fifth-placed France and Morocco (76th) in the FIFA world rankings, the gulf in class and experience was clear, and Reynold Pedros' team ultimately exited the competition at the same stage as fellow African nations Nigeria and South Africa.
But with three teams making it into the round of 16, it has been a good World Cup for Africa. The foundations are clearly in place for an even greater performance by the continent in 2027, and Morocco, who could possibly co-host the 2030 Men's World Cup with Spain and Portugal, are likely to be a leading contender to become the first African country to stage the Women's World Cup in the future.
Losing to France will still hurt, though, despite Morocco's performance in this tournament. Wins against Colombia (1-0) and South Korea (1-0) quickly overshadowed their 6-0 defeat in the opening group game against Germany and emphasised the talent in the squad. But by conceding twice in the first 20 minutes against France, there was no way back in this game or this World Cup.
Morocco, and African football, are rapidly moving on their learning curve, though, so there are only positives to take from their 2023 campaign. — Mark Ogden
How Colombia reached their first Women's World Cup quarterfinal
Joey Lynch recaps Colombia's 1-0 win over Jamaica in the round-of-16 of the Women's World Cup.
Colombia rely on experience and fans to get them through
MELBOURNE — For the fourth match in a row at this World Cup, the Colombia fans showed up in numbers and made a cold evening in Victoria feel more like a cold evening in Medellin. The only pauses in their cheering during Tuesday's 1-0 victory over Jamaica came when they booed the Reggae Girlz when they got into dangerous areas or put in questionable challenges.
Chants for 18-year-old superstar Linda Caicedo — "LIN-DA, LIN-DA" — were unmistakable as they echoed around the stadium, bouncing off the stadium's bubbled roof. But as impressive as she was, it wasn't the young hot shot who made the difference — it was Colombia record scorer Catalina Usme. The 33-year-old took a sublime touch off Ana Maria Guzmán's wonderful cross-field pass early in the second half to open up the angle before curling her shot home.
With Caicedo well marshalled, this game was about the older players who had been there during Colombia's last World Cup campaign in 2015. It was about Usme's efforts up front, Diana Ospina García's tireless work in the middle and Carolina Arias' reliability at the back. It was about Leicy Santos, just a teenager in 2015, who consistently found space in Jamaica's box and caused the defence issues. It was a game for those players who had felt the heartbreak of going out in the World Cup's round of 16 (to the U.S.) and were determined not to suffer the same fate.
There is no doubt that Caicedo is the future, but Colombia needed experience to break through a Jamaica defence that had not conceded a goal all tournament. With many in the squad playing their last World Cup, it was a time to dig deep. Buoyed by incredible support, Colombia held on and the stadium shook with noise at full-time. Colombia's still not done with making noise: A quarterfinal meeting with England awaits. — Sophie Lawson
Jamaica eliminated, but not disgraced
MELBOURNE — An incredible 360 minutes. That's how long Jamaica went at this World Cup without conceding a goal. The Reggae Girlz shut out Panama (1-0), France (0-0) and Brazil (0-0) in the group stage, taking as much joy from doing the dirty work as they would have from scoring a goal — albeit they did that only once.
For most of the opening 51 minutes of their 1-0 loss to Colombia, they were again compact, physical and committed in presenting opponents with a brick wall painted black, yellow and green. There was a brief flurry of activity in the early phases that suggested Jamaica might have a new approach, but the players quickly retreated into a familiar, defensive block.
It was a physical game: bodies flying everywhere as the underdogs looked to knock the South Americans off their stride. Forget vibes or joy, this was a battle: Drew Spence's judo-esque throw on Linda Caicedo, a frequent target of this physicality, could attest to that.
But Catalina Usme's goal just after the restart changed things. Behind in a match for the first time in this tournament due to an uncharacteristically sloppy piece of defending, Jamaica needed to come out of their shell and did so gamely, getting numbers forward to support Khadija Shaw, who had been isolated. They came close to grabbing an equaliser when Spence headed a Tiffany Cameron header just wide, but their inability to find a way through, hidden by their defensive strength previously, was plain to see.
Colombia threatened to capitalise on the pockets of space in behind, but could not. Eliminated but not disgraced, what comes next for Jamaican women's football is now crucial. Despite battling for resources and proper support, they showed what they were capable of in reaching the knockout stages for the first time in their nation's history in men's or women's football.
If their federation puts them in a position to continue to grow and develop, a new generation of Reggae Girlz can build on their success. — Joey Lynch
Matildas smash ratings records
MELBOURNE — The Australian women's national team didn't just win on the field when they beat Denmark 2-0 on Monday night — they also smashed records off it. Days after setting a record for total attendance at a Women's World Cup, figures released by free-to-air broadcaster Channel 7 declared that 6.54 million people were reached over the course of Monday's broadcast, with an average audience during the game of 3.56 million.
Going off Australian Bureau of Statistics estimates that put Australia's population at 26,674,042, that means 24.5% of the country saw some part of the game, with the average audience representing 13.3%. Not only did this make it the No. 1 show on Australian television in 2023, it bested the audience figures posted by every NRL Grand Final since 2016 and four of the past six AFL Grand Finals, the Rugby League and Australian Rules competitions that have long held a stranglehold over national ratings.
But the record is expected to last all of six days, until Tony Gustavsson's side takes part in the Women's World Cup quarterfinals on Saturday at 5 p.m. local time. It's an incredible turn of events, given that prior to the tournament, the largest audience for a Matildas match was 571,000 viewers, set during the 2019 World Cup. — Joey Lynch
Australia's 'mature performance' gets them to the quarterfinals
Marissa Lordanic reacts to Australia's 2-0 win over Denmark to advance into the World Cup quarterfinals.
---
Quarterfinal matches
Friday, Aug. 11
Spain vs. Netherlands: (Sky Stadium, Wellington; 1 p.m. local, 9 p.m. ET [Thursday], 2 a.m. BST)
Japan vs. Sweden: (Eden Park, Auckland; 7:30 p.m. local, 3:30 a.m. ET, 8:30 a.m. BST)
Saturday, Aug. 12
England vs. Colombia: (Stadium Australia, Sydney; 8:30 p.m. local, 6:30 a.m. ET, 11:30 a.m. BST)
Australia vs. France: (Lang Park, Brisbane; 5 p.m. local, 3 a.m. ET, 8 a.m. BST)
---
Features of the day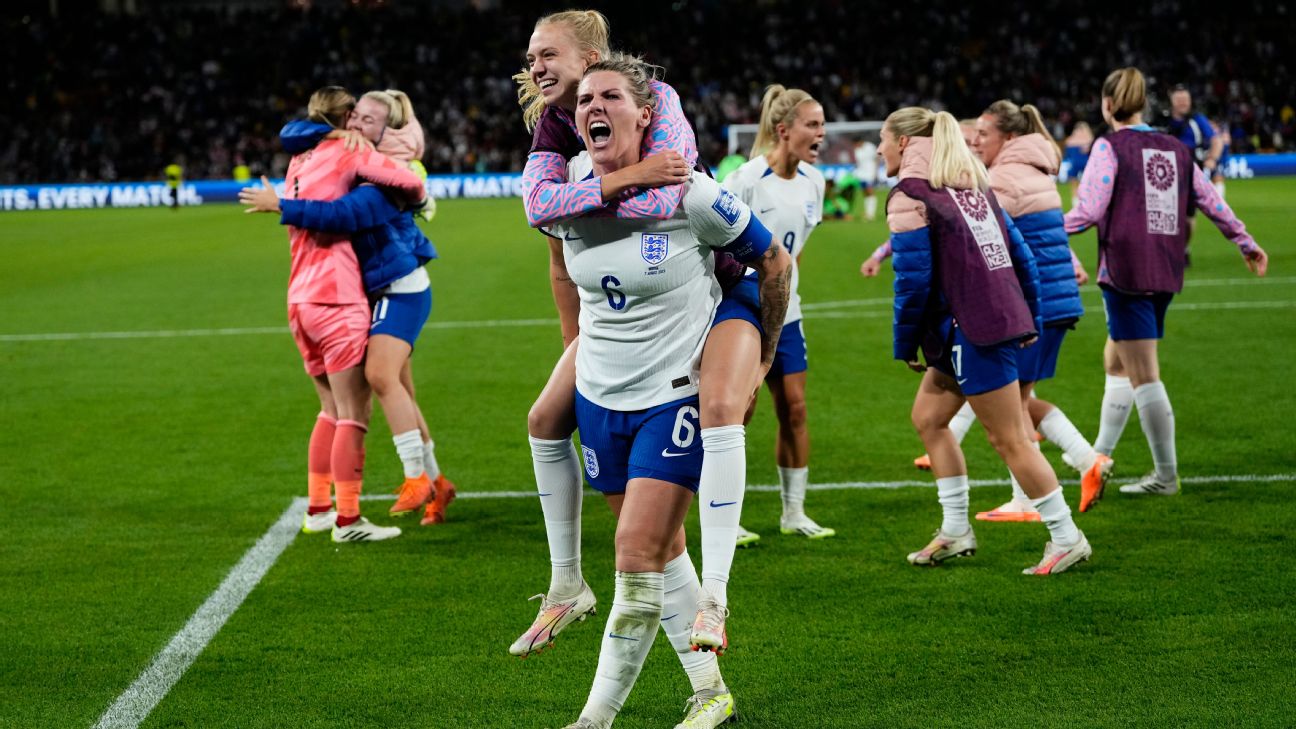 England search for Women's World Cup mojo after Nigeria scare
England didn't play well against Nigeria and must move up a level in the Women's World Cup quarterfinals.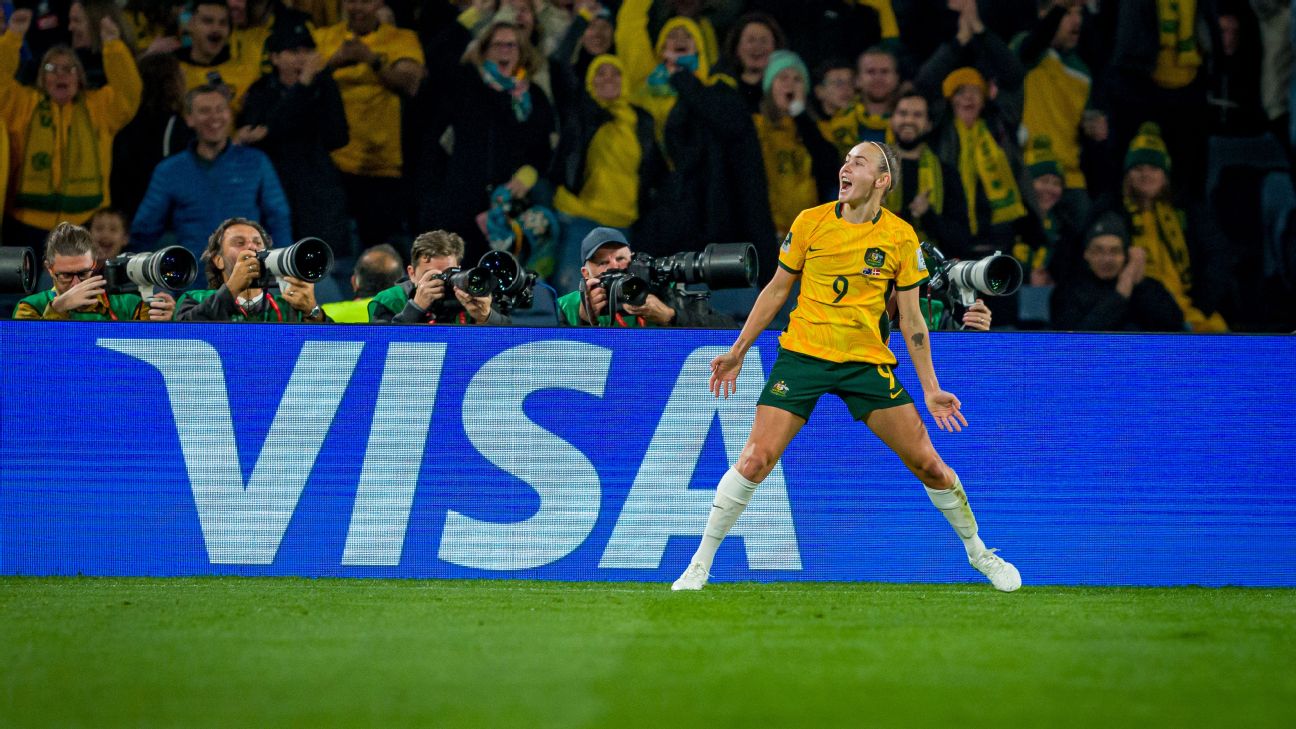 Matildas display calm assurance of World Cup title contenders
Australia have now reached the Women's World Cup quarterfinals four times. They have never progressed further, but they have never reached this point in such poised fashion.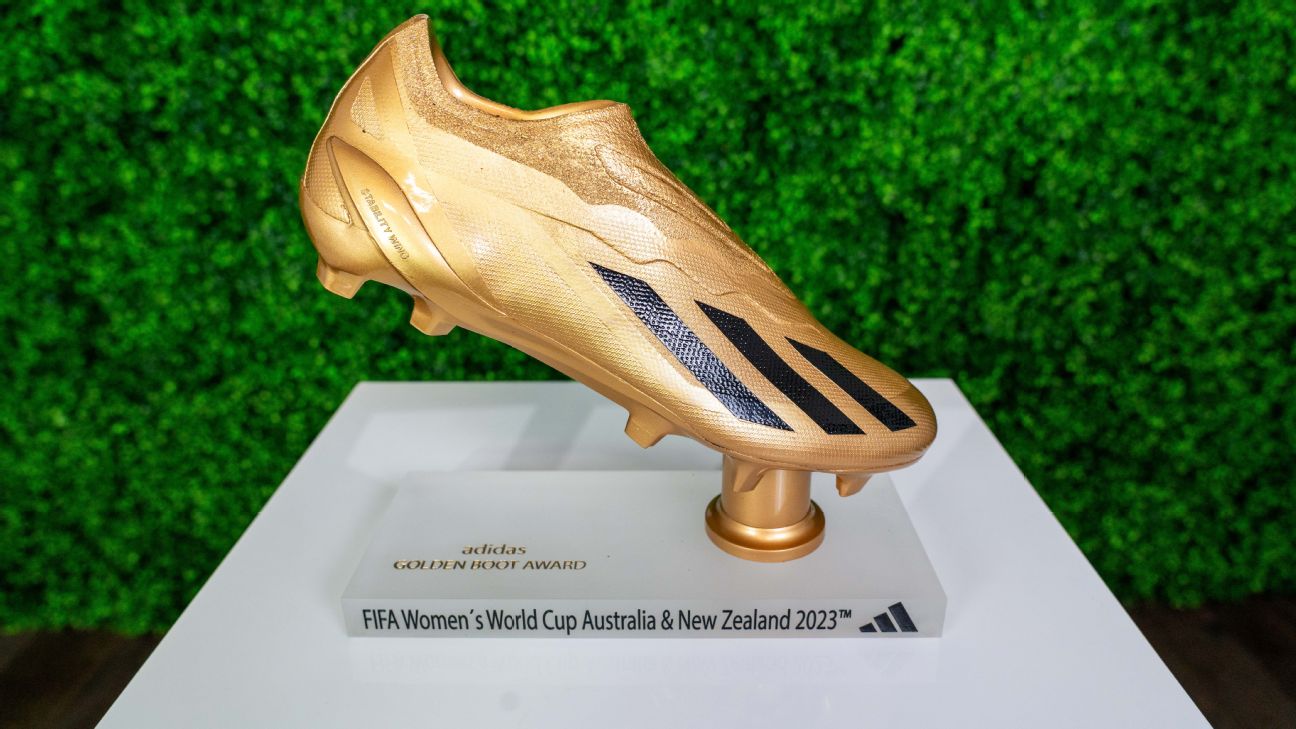 Race for the Golden Boot: Who'll be the Women's World Cup top goal scorer?
Two players led the race for the Golden Boot heading into the knockout phase, but there are plenty more still in contention.
---
And, finally …
Chloe Kelly has been one of the chief architects of incredible moments in England's recent history. She scored the winner against Germany in the Euro 2022 final, and then — in one of the most iconic moments in English sport — ran off celebrating with her top swirling above her head. Some supporters had that image tattooed, while the sequence and photos went viral.
Now, Kelly has potentially created a new trend with her penalty motion in the shootout win over Nigeria on Monday, as she hopped before her run up, similar to the method employed by Italy men's midfielder Jorginho. When asked afterwards if she expects young supporters to follow her run-up, she said: "Maybe — if it works for them then hopefully!"
KELLY WINS IT FOR ENGLAND 💪

🏴󠁧󠁢󠁥󠁮󠁧󠁿: ❌✅✅✅✅
🇳🇬: ❌❌✅✅ pic.twitter.com/5hJnXW7XX4

— FOX Soccer (@FOXSoccer) August 7, 2023
DIFFERENCE 👏 MAKER 👏

When England needs her the most, Chloe Kelly always delivers in the biggest moments 🏴󠁧󠁢󠁥󠁮󠁧󠁿 pic.twitter.com/l4FEOqqIGy

— FOX Soccer (@FOXSoccer) August 7, 2023
After she scored the winning penalty, she then went over to console Nigeria goalkeeper Chiamaka Nnadozie and fended off a camera nearby as it sought to capture the moment, gaining admiration on social media in the process. "Stepping up, I just thought I'm gonna score," she told reporters afterwards. "That's the way I look at penalties, it's confident I know but I think when you win that mental battle, it's always important."
Her penalty was also the fastest shot clocked at this World Cup. Measured by the Connected Ball Technology inside Adidas' Oceaunz OMB, Kelly's effort was struck at an incredible 110.79 km/h, but sadly, it won't go onto the overall leaderboard as it wasn't a goal scored in regulation or extra-time. — Tom Hamilton